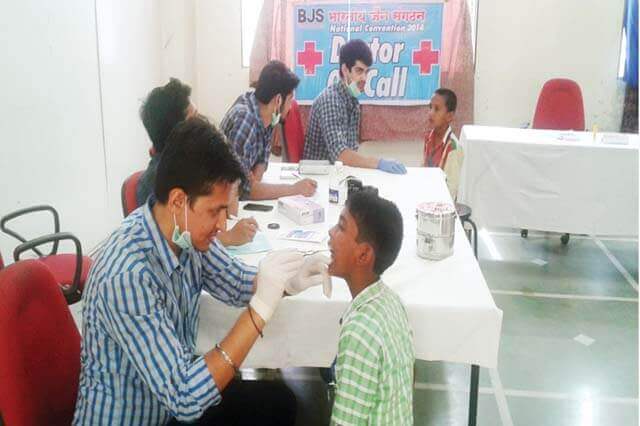 Mental Health Unit – 'Manthan'
As we started admitting children affected by farmer suicides to WERC, in order to rehabilitate them not just physically but also mentally, we conducted a study of child survivors of parental suicides. As a result of this study BJS developed an action plan for the mental health of these children called Manthan and started a mental unit on the campus in consultation with well-known psychiatrists. Hence BJS has worked out a plan for the creation, development and the sustainability of a Mental Health support system at WERC towards ensuring the psycho- social well-being of this extremely vulnerable group of children. "Manthan", the program on mental health, will aim to contribute towards the achievement of the following objectives.
Conceptualization of Manthan: A health check-up camp of all the parental suicide children was conducted at WERC wherein blood tests like Hemoglobin, Vitamin D3, and B-12 tests were carried out on all the children. The results were alarming as more than 90% of the children showed deficiency in the tests conducted. It was really a matter of great concern as the said deficiency leads to depression and many times to suicide if proper intervention is not done at the appropriate time.
In order to address this issue, BJS approached Dr. Kinjal Goyal, a practicing Psychotherapist and psychosomatic Counselor and discussed the said matter. A visit of Dr. Kinjal Goyal along with a trustee of BJS was organized to meet the children and take a review of their mental health. BJS also approached Dr. Ashutosh Chauhan (MD, Psychiatry) who is one of the leading psychiatrists in Pune. His areas of interest include Neuropsychiatry and Neuro-developmental/child psychiatry. Accordingly, an MOU was signed between BJS and Meadowlark Healthcare Pvt. Ltd. On 29th of January, 2016 formalizing the responsibilities of all those on board. Meadowlark is a health care organization with specialty and super-specialty polyclinic/day-care and lab facilities in Pune. To summarize, BJS has treated this challenging and sensitive matter with the utmost seriousness and is taking action to alleviate the situation. Supplements are already being given to the children as required and the psychiatrist's visits are helping the students to deal with their emotional issues.