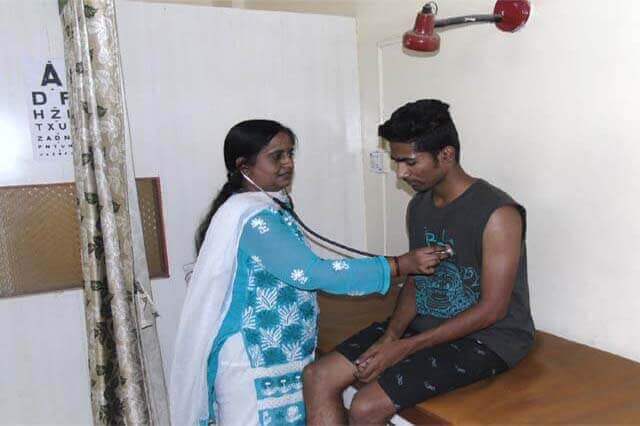 As BJS launched its challenging venture of rehabilitating children from very vulnerable groups, i. e. malnourished children from tribal families & children affected by farmer suicides, it was acutely aware that these children came with their own severe health challenges. It therefore took on the responsibility of taking the utmost care of the children's health, and the Management Committee then laid out certain guidelines in this regard.
For treating serious injuries and illnesses, a facility to avail treatment has been made at Siddharth Hospital at Pune.
With special attention to the health of girl students, BJS has tied up with gynecologists, both for routine checkups and for guidance to adolescent girls with sensitive health issues.
Every year we have one-day workshop on the health of girl's students for adolescent counseling conducted by a specialty gynecological hospital in Pune.
A dental health check-up of all student was conducted. Amongst these, those children who needed dental care and treatment were taken to Bharati Hospital over Three days in Feb 2016 and were given treatment as per necessity.
All the children undergo a thorough medical checkup including Blood test and Deworming doses after every six months at the time of admission and issued separate health cards to every student. After complete medical check-up if a student requires a special consultant for e.g. Dermatologist, Dentist, and Ophthalmologist…etc are consulted as and when required. All medical records of each child are maintained on the health card. We present a sample health card for reference.
Each child is also covered under medical insurance: with a Rs. 2 Lakhs cover for medical treatment and Rs. 5 Lakhs cover for accident treatment.